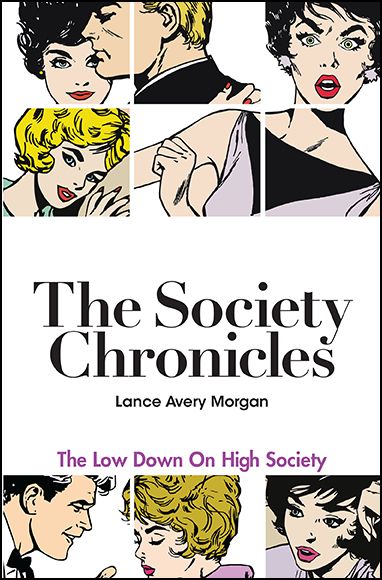 It's a dazzlingly rich world where The Society Chronicles stirs up fun, mayhem and mystery. Like many people who grow up witnessing the spectacle of how the rich and infamous live, Jake Gaines wanted to be that, too. He should have been careful what he wished for when he met his best society gal pal Sabrina Goodfriend and her family back in college.
Now as the editor of the luxurious lifestyle magazine and digital platform, Dazzle, Jake Gaines navigates the choppy high society waters of his readers, frenemies and the social elite's universe, all along Sabrina's side.
With an insider's view of a world where multimillionaire – and billionaire – society fixtures compete for living the grandest life possible, Jake's champagne-filled life swirls around the best parties, luncheons, high fashion, and affairs. His mission: get by with a little help from his rich and famous friends, even when a startling change of events may mean murder. Which it likely does.
[Book illustration by Jonathan Santagata]
EXCERPT FROM THE SOCIETY CHRONICLES:
Chapter 4
BABY, TAKE A BOW
No man is rich enough to buy back his past. - Oscar Wilde
People whispered that Sabrina Miller Goodfriend was a bit too racy for her rather puritan upbringing. She once told me that she felt her life was typical and in another sense, she knew it was not. How could any upbringing be typical when your parents perished before you knew them? The rebellious streak she developed began at Houston's Cassidy School, the city's tony private school in Piney Point Village until she was then shipped off to the Brillantmont finishing school in Lausanne, the heart of Switzerland. Her classmates were daughters of movie stars and international dignitaries that would make her, on her infrequent trips home, seemed eons more refined than the local gals.
All this sophistication created an array of dizzying confrontations about her wildish behavior by the time she got to college in 1989, on the heels of that decade's heady oil boom. She defied convention by choosing to join a Big Six-ranked sorority instead of the best one of her set, Kappa Alpha Theta, living at the exorbitantly priced Harding House dorm her freshman year, complete with maid service and butlers who were nearby fraternity house members often working their way through school. And, serve the girls is what the frat boys did. Friday was Mexican Food day at the sorority house and after lunch with no classes to attend, the servers and their girlfriends would creep up to the sleeping porch for some afternoon delight naughtiness. It was something everyone did, but no one ever discussed. Decorum was Job One.
Sabrina took to spending her nights sneaking out to drink at the local hot spots; Valentine's, or the Posse East by the Delt house, and to Abel's, where she was known to down top shelf Electric Lemonades before taking The Babies for a skinny dip. One night in particular, in April of her freshman year, she dove into the Beta Tau pool with three of the house's pledges on break from building the annual New York, New York-themed party for the school's annual Round Up weekend festivities. That swan dive would change the course of her life.
Those Betas loved to drink, mess around and brag, which solidified Sabrina's reputation as a rich bad girl who wasn't hitting the books nearly as much as she was hitting the bars.
"Darlin, you're about to make the most important debut this state has ever seen and I'll be damned if I'll let you, my bad boy-loving tramp of a granddaughter, ruin that," barked Amon Miller. She was the apple of his eye, but also sometimes a dagger in his heart.
Her grandmother, Amanda, weighed in as usual, with an icy silence and chagrin that was palpable. Instead, knowing that Sabrina was the wild child cut from her own family's cloth and very little would change that, Mrs. Miller had fittings to attend at Tootsie's boutique and hairdressing to be done at the Mr. Robiere salon in the Galleria.
Fortunately for Sabrina and her alma mater, it only took one new Communications Department building, donated by Old Man Miller, to keep his granddaughter from being kicked out again. That was the year I first met Sabrina, during one of the state's most prolific society events ever witnessed.
Sabrina and her roommate, Libby Matthias whom I had briefly dated, of Galveston, were touted as Debs of the Year, representing two of twenty-four girls debuting for the Houston Symphony League in its most glittering deb lineup to date. I recall that Sabrina and Libby would almost have to quit school for a year due to the time commitment, bowing at such formidable deb presentations like the Idlewild in Dallas, the Bachelor's Club in Austin, Fiesta in San Antonio, and of course, much later in the season on New Year's Eve, at the International Debutante Ball at the Waldorf in New York.
In the bathroom of the Allegro Ball in her hometown in the late fall, where she just made what seemed like her umpteenth triumphant bow of the season, Sabrina was getting that same old restless feeling again to stir things up. The ennui of the super rich had its challenges.
"Let's ditch this dump and catch a flight to L.A. My old roommate's dad owns Bacchanal's Palace in Vegas and she can get us into all the best parties in Hollywood. This time tomorrow we could be doing coke, poolside, with someone like Rob Sisely," Libby tossed off to Sabrina, her polka dotted, haltered Lillie Rubin dress already saturated with champagne. It was a 1962 vintage bottle that she was carrying around by the neck of the half magnum, as ladylike as a bull in a china closet.
"Our parents would kill us if we left early. But, gosh, can we?" uttered Libby to Sabrina, still upset that the stay at the Lake Austin Spa only helped her melt away ten pounds last week instead of the desired fifteen. "I'm having a pretty good time here. The party is in our honor, after all," Sabrina countered. "No, we'd better stay. We will be in Dallas tomorrow by noon anyway."
Sabrina's debutante party, where she would reprise her St. James bow, or the Texas Dip as it was aptly named, jettisoned her to the top of the headlines in March 1990 when it was hosted at the Houston Country Club, with the jaw-dropping theme of A Night in Paris, no less.
It was now her time to shine. On the perfect 70 degree evening with no clouds to be found in the moonlit night, everyone who was anyone from Houston, and anywhere within a plane flight, came in for the French-themed affair to end all affairs.
Lear jets gassed up from Dallas to Beaumont, and Concorde flights from Paris by way of Manhattan brought movie stars, royalty and even heads of state. Some even flew on the state's own Muse Airlines, while reading Ultra magazine in between conversation breaks concerning Lady Diana's visit to Texas later that month, the myriad downtown real estate crisis, and naturally, how white Sabrina Miller's debutante dress would actually be. Given her questionable sexual reputation by now, perhaps it would have a big black hem.
The imported guests and I had all either shopped at the Miller's bastion of luxury, or well knew of its legend. The debut of their family beauty Sabrina would ensure the Miller's, and those of their crowd, had a place at the table that her family was denied by High Society only a generation ago. Viewed by oldsters as a screw you-thumbing their nose by the Millers at the bourgeois who had previously kept them in their place, they would now have to pay homage to the offspring of Retail Royalty. It was about time and long overdue.
The Applegates were there, as were the DeYoungs, the Orbachs, and the usual round up of Mrs. Miller's coterie of decorators, hairdressers and walkers who all appeared in full re-gay-lia of brightly colored cummerbunds and tie sets, as well as their own creative black tie pronouncements. In the anything-goes attitude of that late 1980's party, unfortunately there was no fashion police, just quirky rich people dressed in Adolpho, de la Renta, with scads of Fred Joallier baubles adorning them. Funny, how when rich people do odd things or wear unbearable outfits, they are considered eccentric. When if a lesser moneyed person attempts it, they are considered repulsive.
The décor, including an exact replica of Versailles' Galerie des Glaces, as well as a Louvre pyramid structure built over the pool as a tent, contained the Wow Factor from the first second we entered the long ambassadorial-esque receiving line where the Millers received their friends, family, and a few strangers. The pink-gelled lighting cast a favorable glow on the most ordinary people, making them look stunning and mostly, the very loveliest attendees shined like the gods and goddesses they believed themselves to be. The tulips lining the walls set the delicate tone of the evening.
"You look stunning tonight, Sabrina. Hell, I ought to have a statue of you erected on the Capitol grounds. I can do that, you know," pronounced Governor Hub Snyder standing in front of me, who just happened to be in town that day giving a speech at the Petroleum Club, deciding to stay to support his Democrat supporters, including the Millers. He could always count on the Miller clan and their limousine liberal votes, as he called them.
"Thank you, sir. I'm so glad you and Mrs. Snyder could be here for it. I know how much it means to my grandfather," Sabrina said in the receiving line, uncomfortably breathing into the party dress by Scassi into which she had been sewn.
"You save me a dance, you hear?" Snyder replied before he and his wife Belinda were hustled toward the kitchen exit door with their security guards, hopping on the State of Texas jet back to Austin in time for meetings with the chairman of House Appropriations committee for his new fiscal budget he wanted passed.
Governor Snyder was no fan of deb parties. The one he and his wife hosted for Marissa Jacoby a few months before at the Governor's Mansion in Austin still had a cleaning crew sweeping up broken glass and finding shards of martini glasses in the potted palms. The gala's Winter Wonderland theme and its ensuing extravagance, he was hoping, wouldn't cost him the next election since he was now being called a high flying governor in a high flying state. The political waters in Texas were changing and no one could imagine where the tides would soon take it, while the religious right was rearing its head again in record numbers, especially in the buckle of the Bible Belt: Dallas.
Rap superstar LL Doggie B and his band, decidedly not meeting the Bible Belt standards, nevertheless, were flown in for the evening to perform for some of the richest folks in Texas. He sang Gonna Take Your Sex while every Theta, Phi Delt, Chi Omega and Pi Phi member danced until four o'clock in the morning. Then it was time for Frito Pie and Moet champagne midnight breakfast to provide sustenance before the flight in the morning. The jet would carry them to brunch at the Las Colinas Polo Club grounds and the Prince rock concert that evening. The hit-making, purple-garbed artist would perform at Reunion Arena, a structure that had recently changed the skyline of Dallas with its lit globe, and was certainly immortalized in the long running television series, Dallas. That was the show that was rumored to be, in part, about the Miller's dabbling into their clients' oil field investments. Who shot J.R.? That's easy; in real life it could have been specimens like Amon Miller, or his grandson and Sabrina's brother, hot heir Joaquin Miller.
The party set back the retail dynasty $250,000. Years later Sabrina's dream of hosting a triumphant society extravaganzas would come true over and over again. By then, I was her closest confidante and biggest supporter.
Copyright 2013 The Society Chronicles, LLC